My father established our family run business Highland Radiator in 1959. He was a U. S. Army Sgt. crane operator, mechanic and repaired radiators during WWII. After the war, he held various jobs and then decided to open an automotive radiator repair shop. I joined him in 1964 part-time while attending a local community college.
Back then the radiators I learned on were all the antique and classic radiators from 1900 – 1960's. We did them all. I had a younger brother (since passed) who joined us about ten years later. Together we did a lot of research on antique and classic radiators which were mostly produced in upstate New York.  Coincidentally and fortunately for us, we live in New York.
We began manufacturing various honeycomb radiator cores of different styles and configurations for about 20 years. I still have most of these available today.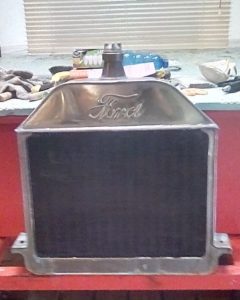 Presently I am operating a radiator shop solely dedicated to the automobile enthusiast, repairing and restoring vintage, classic, muscle car and farm equipment radiators.
Antique Radiator Repair specializes in replacement radiators for classic cars. No matter the year or model, we've got you covered. If you require a classic car radiator recore, then let our over 60 years of vast radiator experience turn your leaking classic car radiator into better than new condition. If you're looking for the absolute best craftsmanship and antique car radiator repair, then look no further.
Contact Joe for more information:
(845) – 691 – 7883 (Home)
(845) – 891 – 4525 (Cell)
Email: oldsman1956@yahoo.com